Conversion to Residential Use
CHELTENHAM TOWN CENTRE
Client: Logical Living Ltd
Our client purchased a large piece of vacant office accommodation in Cheltenham town centre, formerly occupied by 'Gloucestershire Media'; the company behind local publications including the Gloucestershire Echo and the Gloucester Citizen.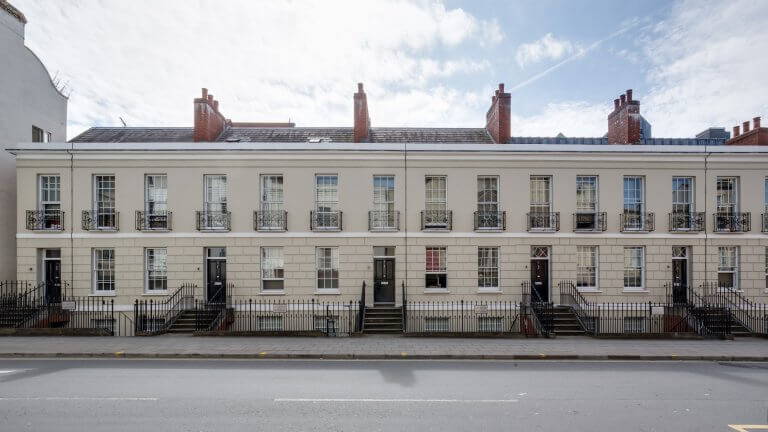 Project
OVERVIEW
The offices had been vacant for approximately 6 years, much of it through the recession. The offices were protected by the Council for employment use, the Council were keen that the use was safeguarded. We therefore instructed commercial agents to provide a detailed marketing report demonstrating the lack of potential for the current use to continue and as a result to prove that the principle of residential use was acceptable.
As a listed building, and notwithstanding previous inappropriate alterations, there was a need to safeguard its architectural and historic integrity. An Historic Buildings Consultant was appointed to carefully assess the building, provide a Statement of Significance and Heritage Impact Assessment. This demonstrated that the proposal would not be unduly harmful to the Heritage Asset and would realise the much needed re-use of existing buildings for their original use.
To maximise its chances of actually being implemented, we appointed surveyors to assess all the costs associated with the project and for those in turn to be assessed by the District Valuer.
The result was that the scheme became exempt from the burdens of financial contributions and affordable housing contributions. In turn, and despite the many challenges associated with it, this has resulted in the commencement of the rejuvenation of an eyesore listed site in the centre of the town's conservation area.
I have been impressed with their broad skillset and flexibility to undertake any challenge effectively and quickly.