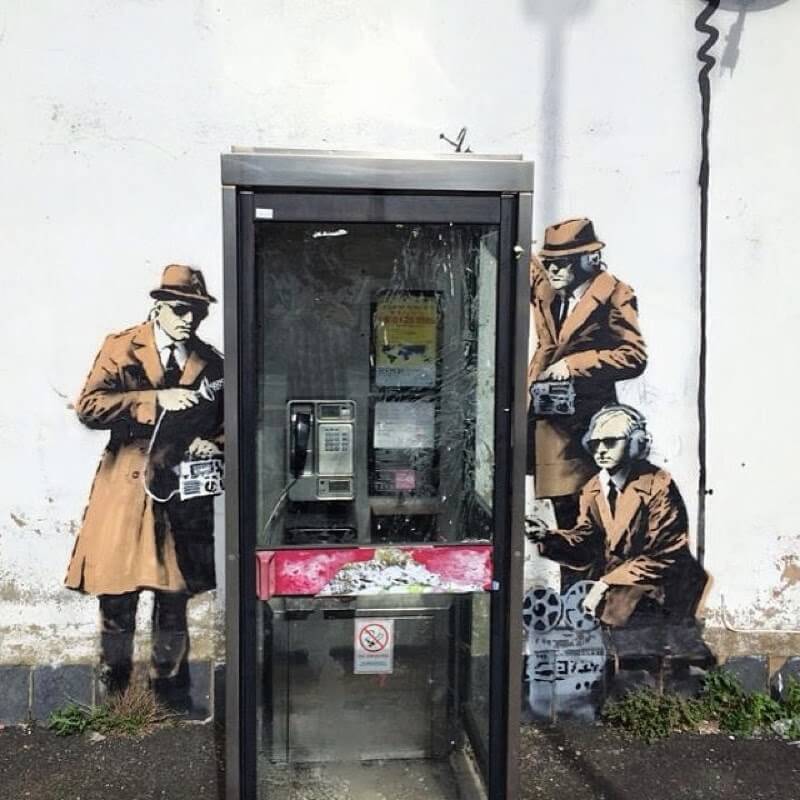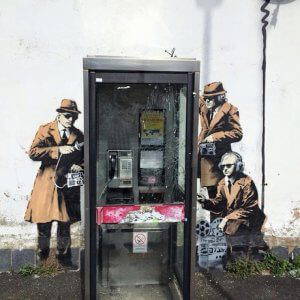 UPDATE 12 September 2014 – today, SF Planning Limited submitted an application to English Heritage to amend the list description of 159 Fairview Road on behalf of the Banksy campaign group.  This is a separate process to the application for listed building consent.
The interest and importance of the work is without question.  It is therefore hoped that English Heritage will add the artwork (made up of the stencil, the satellite dish and the telephone box) to the description.  We suspect that seeking to add a 21st century artwork to the list description of a 19th century building is a first.
Notes – Not all features of a listed building are mentioned in a list description and in many instances interiors are not even inspected at all, but this does not make these features any less important; they are all part of the listed structure.  Regardless of whether or not English Heritage does change the description in due course, as long as Cheltenham Borough Council supports the application for Listed Building Consent, then the Banksy will still become an authorised part of the listed building.
ORIGINAL 5 September 2014 article below –
SF Planning Limited is donating time to support the campaign group seeking to preserve the Banksy artwork in Cheltenham.  In order to help we have submitted a listed building consent application to Cheltenham Borough Council to change the status of the Spy Booth painting from unauthorised graffiti on a listed building to an approved artwork.
Local retired architect Mr Hekmat Kaveh is part of the campaign group – "the problem we currently have, is that everyone seems to love the artwork and is supportive of its retention, but it is 'unauthorised' and theoretically at least, the council could ask for its immediate removal".
The artwork, which appeared in April 2014, is of 1950s style secret agents listening in to a conversation inside the telephone box adjacent to the listed building.  The work has been subject of much speculation and drama, with several attempts to remove it and other attempts to cover it with graffiti paint.  It is currently being protected with temporary hoardings whilst attempts are made to find a longer term solution to its protection.
If the application is approved, the artwork would not only be authorised by the Council, but its future in its current location would be assured as it would immediately become an offence to change, alter, cover or remove it without first seeking listed building consent.
Cheltenham Borough Council has now registered the application.  There is a 3 week statutory consultation period and therefore a decision will not be forthcoming until mid-October 2014.