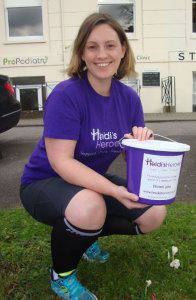 Mark's wife Emma is planning to run the London Marathon this year, and as part of that effort Emma is also collecting for local charity Heidi's Heroes.   Many of you will know that Heidi's Heroes was set up by Paul Wood of Planet Property Development here in Cheltenham as a tribute to his late wife, a former world championship swimmer who died of cancer aged 51, in 2012.
Heidi's Heroes help to deliver much-needed local training and support for those with cancer, the bereaved and to children who at aged ten are about to leave primary or junior school and are still unable to swim.
If you have a bit of money to spare please use Emma's Virgin Moneygiving page.  Donations will be very gratefully received as not only will it help an excellent cause, but it will help push Emma round all 26 miles (and Mark to keep up the spectating at various locations around our capital city).
Thank you!