Michelin House, Fulham Road, London (Royal Borough of Kensington & Chelsea Council)
SF Planning and SPIN Architecture have recently secured planning permission and listed building consent for internal and external works to Michelin House on Fulham Road in London.  The grade II listed building is the former UK headquarters of Michelin within the Royal Borough of Kensington and Chelsea and is now home to Bibendum restaurant. Designed by one of Michelin's employees, François Espinasse, the building opened for business in 1911 and has three large stained-glass windows based on historical Michelin advertisements all featuring the Michelin Man "Bibendum."
The approved works will enable the refurbishment and upgrading of facilities within the restaurant, which occupies the ground and first floor of the building, to secure its long term use.  The proposals include the re-exposure of several historic elements of the building to enhance its significance.  The application was submitted on a tight timeframe and approved within the eight week target date to ensure works could start on site as programmed.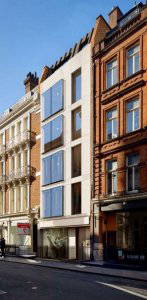 Maddox Street, Mayfair, London (City of Westminster Council)
SF Planning, working with PAPA Architects, have recently helped our client achieve planning permission for alterations, extensions and a much needed replacement façade to an existing 1960s office and retail building in the heart of Central London, just a stone's throw from Oxford Circus.
As part of the works, the building will be converted from offices on the upper floors to 4no. high end flats with new external amenity space.  At ground and lower ground floor level, we have achieved a "flexible" permission to help maximise the potential end users for the commercial unit with the possibility of a retail, restaurant or gallery use to maintain the buildings active frontage.
The building is within the Mayfair Conservation Area and the works will significantly improve the external appearance of the building, with a new high quality façade constructed in Portland Stone and slender aluminium powder coated windows to replace the rather bulky existing projecting bay. The proposals were the subject of negotiations with the Design and Conservation Officers at Westminster City Council at the pre-application stage and during the course of the application whom were supportive of the design approach.
It is understood work will start on site in early 2017 and we look forward to seeing the completed building.
For more details on these projects please contact Paul Jenkins at SF Planning on 01242 231575 or paul@sfplanning.co.uk