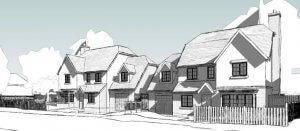 Claygate (Elmbridge Borough Council)
SF Planning have recently secured planning permission for two executive family dwellings on an infill plot within the village of Claygate, Surrey, a short distance from the railway station.
This site had an extensive and unsuccessful planning history dating back a number of years, during which time the site had become a local eyesore.  There were no fewer than four previous applications for residential development (submitted by other consultants) having been refused or withdrawn.
Here at SF Planning, Rob Ellis has an intricate knowledge of planning at Elmbridge Borough Council and more widely at Surrey County Council, having worked there for many years earlier in his career.  As a result of this experience, the client in this instance was recommended to us through word of mouth.
Once instructed on this project, SF Planning were able to use their expertise and established relationships at Elmbridge Borough Council to agree a way forward starting with a comprehensive pre-application enquiry through to the application submission and eventual permission at the Planning Committee.
SF Planning are delighted to secure this permission at the first attempt, following a long and protracted planning history.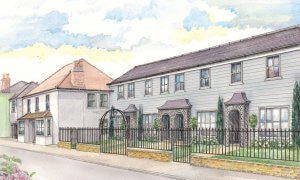 Thames Ditton (Elmbridge Borough Council)
On behalf of established clients, SF Planning have secured planning permission for the conversion of a redundant office building to provide 7 dwellings (including 4 town houses and 3 apartments) within the village of Thames Ditton, Surrey.  The proposals also included significant enhancements to the façade of the building such as the provision of traditional weatherboarding, roof tiles and boundary railings, as well as the removal of a dangerous vehicular access.
This building had been underused in recent years and stood out as an unsightly feature within the otherwise picturesque surroundings of central Thames Ditton.  Not only do these proposals provide much needed housing in a sustainable location, but they also facilitate significant visual street scene enhancements within a Conservation Area.
SF Planning are very happy to have secured permission at the first attempt for this scheme, which will make a real difference to the central area of Thames Ditton village.
Great Bookham (Mole Valley District Council)
SF Planning have this month secured planning permission for three family dwellings on an infill plot within Great Bookham, Surrey.
These proposals were complicated by the need to protect and retain a large Oak tree within the boundary of the site.  Furthermore, given the increasing weight being afforded to the emerging Neighbourhood Plan policies, as well as the impending adoption of CIL within Mole Valley District on 1st January 2017, we needed to work quickly and efficiently in order to prepare and submit an application, as well as achieving permission (which included the need to secure a slot on the December Planning Committee), all within a challenging timescale.
SF Planning are delighted to have achieved permission at the first attempt for this newly established client.
For more details on these projects please contact Rob Ellis at SF Planning's Gloucester office on 01452 527997.